from Valeria Airoldibloggers and influencers
I spent a couple of days in the heart of the Tuscan Maremma. Objective: to know more about olive oil. Those who follow me on social media know how much I like to cook and offer healthy dishes, made with top ingredients. In short, at a certain point, I felt that it was time to deepen my knowledge on extra virgin olive oil. So I set out on a journey towardsIl Cicalino farmhouse (Gr), a kind of Eden, an oasis of peace, between wonderful scents and colors. Yes, because it is here that they are held tasting courses of olive oil. Recognizing a quality product is not easy, there are many aspects to be evaluated. But thanks to the assistance and explanations of Alissa Mattei, chemist and agri-food expert, as well as panel leader of the Aifo Firenze tasting committee recognized by MIPAAF, I have discovered more than a thousand. I'll tell you here. Let's start from the beginning.
From the harvest to the bottle
Before going into the merits of tasting extra virgin olive oil, a few words about olive harvest, a moment that has its poetic aspects, as Alissa Mattei told me: around April-May the pinks blossom on the trees, white flowers, small and in clusters, from which you will have the fruits. At the end of June, the oil begins to form in small, green olives. And at the beginning of October we witness the veraison: the olives change color and become first reddish and then dark. This is also the Il Cicalino estate right time to proceed with the collection and bring the olives to the mill as soon as possible: in fact, it is necessary to avoid leaving them in the open air, to avoid processes of degradation, fermentation and oxidation. Here they are washed, crushed and ground. The oil obtained will be filtered and decanted in the silos, until it is ready to be bottled.
Recognize the quality
But how to understand if an extra virgin olive oil is of quality? «This basically depends on the characteristics chemical-physical-organoleptic of the product (defined by the European Community regulation 2568/91), by those nutritional (dictated by the antioxidant components, in particular polyphenols and vitamin E) and its purity (the oil must not be mixed with others) », explains Alissa Mattei. For some of these aspects we can rely on what is written on the label (read also further on).
Tasting is essential
Thanks to smell, taste and touch and with a little effort, each of us can test an oil to try to perceive its characteristics and understand if your palate likes it. "The tasting begins by taking the glass with the oil in your hand: you have to heat it for a few minutes, then cover with your palm and swirl the liquid gently", says expert Alissa Mattei (in the photo opposite with Valeria Airoldi).
"The next step is it smelling: the glass is brought close to the nose and not deep but consecutive inhalations are made. What do we perceive: hints of fruit? Scent of cut grass? Let us dwell on each sensation.
So let's taste with the mouth, distributing the oil all over the tongue. At the beginning we will feel a slight astringency (there is a taste similar to artichoke / almond), then the bitter will arrive and finally the spicy (burning sensation) ". In this phase it is possible to perceive any oil defects. The most serious: the taste of rancid. The oil, in fact, it can oxidize, due to oxygen, which attacks triglycerides, 99.9% of its components. «Some oxidations can already be perceived on the nose, others in the mouth (nauseating sweet sensation). Experienced tasters perceive other negative attributes: the wine, the acidity, the acid, the sour. They even feel the characteristic of "frozen olives", typical of oil extracted from fruits that have been frozen on the tree », she concludes the expert.
The oils I've tried
At Tenuta Il Cicalino, thanks to the assistance of the expert Alissa Mattei I was able to appreciate two very interesting extra virgin olive oils:
Italian extra virgin olive oil The Seasons of Italy (to the left) It has a full-bodied flavor: at first taste it seems "neutral", then bitter and spicy explode in the mouth. It is particularly rich in polyphenols, precious antioxidants. It is indicated with meats and legumes
Tuscan IGP extra virgin olive oil Il Cicalino (To the right) Balanced and harmonious, reminiscent of artichoke and unripe almond. The flavor is not "intrusive", but it is delicate and pleasant. It is particularly suitable for fish, raw foods, soups.
Gold on your plate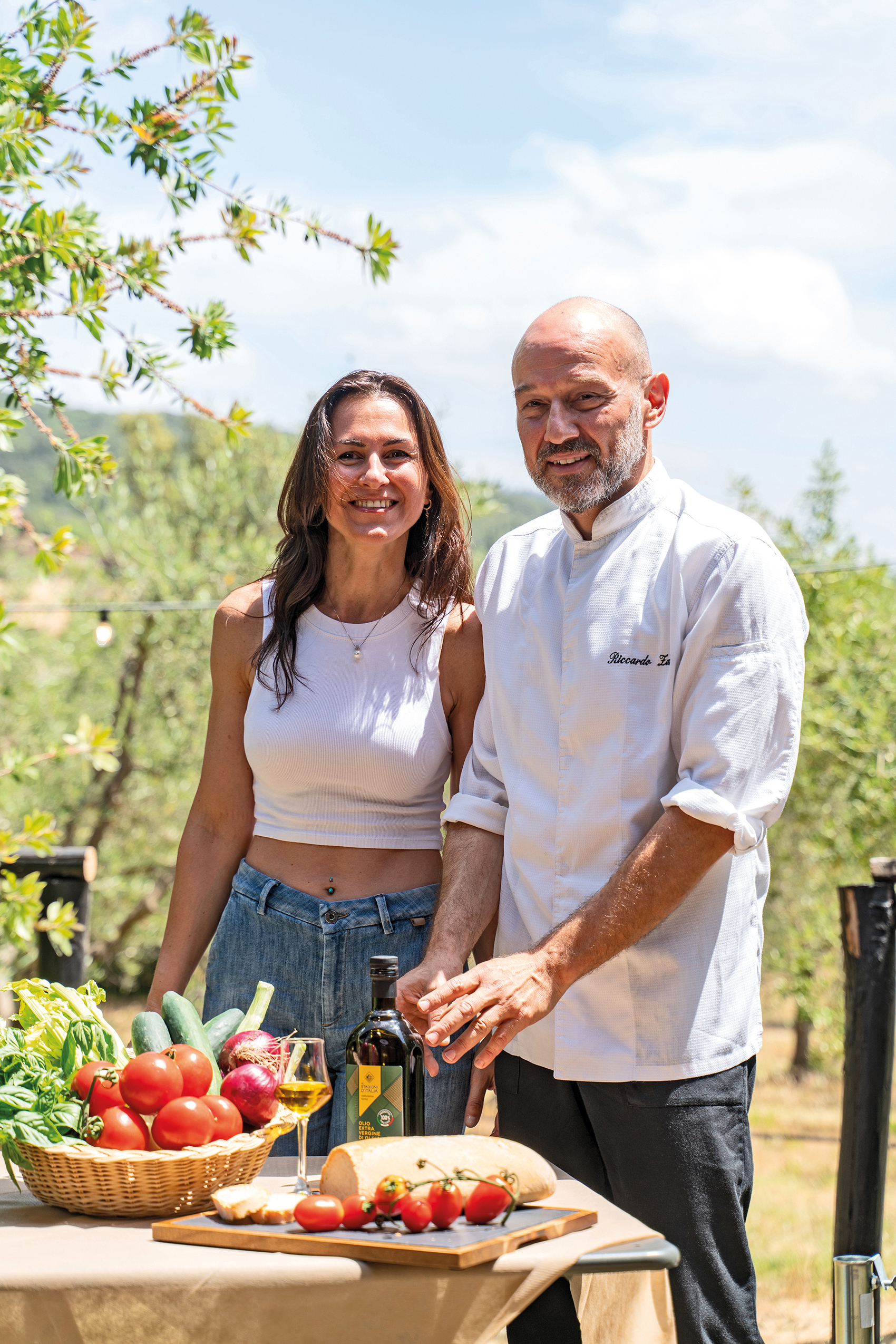 Focusing on what your favorite oil is after all is a way to love yourself and to give an extra gear to the dishes we bring to the table. To teach me, during my stay at the Buzzer, it was Riccardo Zanni (with the photo opposite), executive chef of the Tenuta and of the BF group, who delighted me with some traditional Tuscan dishes. "Each chef chooses his own oil, we should all do it," she emphasizes. And he continues: «I prefer the Tuscan IGP extra virgin olive oil from the Il Cicalino estate».
What to look for on the oil label
In addition to nutritional information, a quality oil shows on the label:
The wording "extra virgin olive oil"a sign that it respects all the parameters of the European Community regulation.
The wording "Obtained by mechanical processes": indicates that it is really extra virgin and that no chemical processes have been used.
The lot: allows to verify the traceability (where the olives were produced, stored and pressed).
The harvest vintage (or oil campaign): it is mandatory if the oil is PGI, protected geographical indication. If it is Italian, it must be indicated only if it is unique. If, on the other hand, it is the product of a mixture, it is not mandatory.
Best before: this is not a real expiration date, however it means that after this date the oil begins to lose its nutritional characteristics, taste and organoleptic qualities. It goes without saying that a recently bottled oil offers its best properties.
If the oil is Italian or produced in Italy with olives harvested and pressed in Italy, this must be specified.
Extra virgin olive oil: a "medical food"
Extra virgin olive oil, not only good but also rich in properties. "Scientific studies state that extra virgin olive oil, if consumed regularly and in the right quantities, helps reduce cholesterol LDL ("bad") and to decrease the risk of heart attack, "he says Martina Doneganinutritionist biologist and science writer, author of Health in the kitchenfresh off the press for Mondadori.
«Not only that: extra virgin olive oil stimulates digestive secretions, fights constipation, acts as an anti-inflammatory thanks to the presence of polyphenols and is involved in the formation of bone tissue. The correlation between regular consumption of extra virgin olive oil a decreased risk of getting Alzheimer'sas described by the review entitled Extra-virgin olive oil for potential prevention of Alzheimer diseasepublished in December 2019, by Rev Neurol Paris.
Living the Maremma
At Cicalino culture, tradition, good food and food and wine excellence are the protagonists. But the territory also gives many ideas for an active holidayfrom trekking to cycle tourism, from long walks, to swimming in the pool (at the Cicalino there are 5 of them).
The Il Cicalino estate offers yoga classes, withdrawals with focus on running and biking, guided e / MTB routes, courses organized in collaboration with Bike Acadamy with road bikes.
L'food experience it is not only gustatory: Chef Riccardo Zanni offers experiences in the kitchen, to learn tricks and secrets of the Tuscan tradition. And, of course, it is possible to participate in tastings and EVO oil tasting courses, both for amateurs and aspiring professionals.
Respect for nature
An exciting experience mine, which I recommend to everyone. Not only have I explored the secrets of made in Italy olive oil, but I have given myself one regenerating break in nature, which in this place is deeply loved and respected. "We tried to avoid forcing the environment and protect the territory, using natural and local materials," he told me Elisabetta Pasinato, hospitality manager. "Waste has been minimized by applying precision agriculture, which allows you to control the use of water. We offer our guests dishes cooked with local products. All choices that allow natural resources to be saved and pollutant emissions to be reduced. And the most authentic way to experience nature, which gives us so much without asking for anything. If not simply to be respected ».